Ludovico Einaudi Announces New Album 'Cinema'
23rd April 2021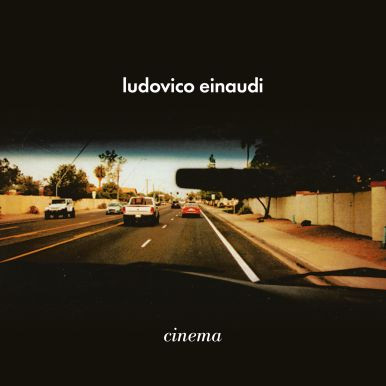 With a career spanning three decades and multiple generations, composer and pianist Ludovico Einaudi's captivating music has become some of the most recognisable in the world. Today, in celebration of his incredible cinematic achievements, Decca Records are thrilled to announce Cinema a new handpicked collection of Einaudi's incredible musical works from film & television to be released on 4th June and available to pre-order now.
Cinema features 28 breath-taking tracks from the big & small screen including Insidious, Sense8, This is England and four of Einaudi's integral tracks from Oscars favourite film and soundtrack Nomadland. Director Chloe Zhao recently featured as a guest on podcast Experience: The Ludovico Einaudi Story, speaking to host Joe Dempsie about how she first discovered Einaudi's music:
"I went online to search for classical music inspired by nature… [it led me to] a YouTube video of his Elegy for the Arctic. I then started listening to Seven Days Walking and was amazed by how I felt Ludovico was walking in the Alps. I felt like he and the character of Fern were walking in parallel; their shared love of nature connects them, and I knew then his music would fit perfectly with our movie."
Interviews with actor and producer Russell Crowe (Les Miserables, Gladiator), director and screenwriter Shane Meadows (This Is England, Dead Man's Shoes), writer and director Eric Toledano (The Intouchables, Samba) and more, exploring how they first discovered Einaudi's music and the emotional impact it has can be heard on podcast series Experience: The Ludovico Einaudi Story.
"I was using Ludovico's music a lot on the set just to keep the goosebumps on people's skin... it makes you feel like you're actually inside the movie" Russell Crowe on The Water Diviner
Boasting 15 studio albums and over 80 film and television synchs to his name, Einaudi has become one of the most ubiquitous contemporary composers of the century. Einaudi repeatedly tops the classical charts globally and has become the biggest streamed classical artist of all time. One in ten classical streams in the UK stem from Einaudi's music equating to over 1 million streams a day and 2.4 billion streams across the board. Einaudi transcends generations and in addition to his synch, chart and streaming accolades enjoys over 1 million YouTube subscribers and over 10million views and 83,000 pieces of unique video content on TikTok.
On the use of his music for film and television, Einaudi says: "They say my music is cinematic…it is always interesting for me to see my music combined with images; it is like rediscovering reading my music with a different perspective"
Cinema will be released by Decca Records on 4th June.
Stream previously unreleased track 'My Journey' and pre-order the album HERE.
Related News