New album from Jacob Groth
5th december 2019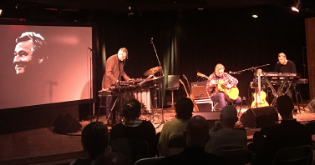 For more than 40 years, Jacob Groth has created the perfect soundscapes for Danish as well as international productions with his score music. Now he is releasing his first studio album since starting as a score composer. The release was marked by a showcase event with support from Koda's Cultural Funds.
The album, Music For Your Inner Movie, is inspired by his joy of nature and dedicated to the young people, who are fighting to save our climate. On the album, Jacob Groth has composed without his usual fixed frames and is moving in a lighter direction than his well-known Nordic Noir-style.
"Music For Your Inner Movie" was written as part of a process of continuing after a horrible experience with a film project that crashed. Writing and recording these 11 pieces of music helped me regain the enthusiasm of finding a melody, a harmony and most of all, the joy of playing music with my wonderful orchestra, The Danish Filmharmonics," Jacob Groth explains.
Listen to the first track from Music For Your Inner Movie, April, on Spotify. The full album is available to purchase on vinyl.
Related News