Wise Music Australia signs Rising Pop Star Beks In An Exclusive Worldwide Music Publishing Deal
8th March 2022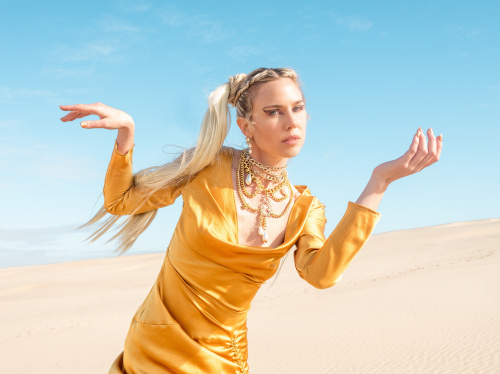 Wise Music Australia (part of the Wise Music Group) is thrilled to announce an exclusive worldwide publishing deal with rising queer pop-star Beks, cementing a partnership that has been in the works since before her hit single The Thing About Us was released in 2021 . Beks now joins the Wise Music handpicked roster of incredible local talent including Ngaiire, Donny Benet, Josh Pyke, William Barton and Harts. This deal comes just ahead of her new single Make Believe, a dreamy electronic pop ballad co-written with multi-million streamed artist and influencer Lucy Neville releasing today, March 9.
Based in Brisbane, Beks (Rebecca Callander) was previously the striking front-woman and guitarist of successful all-girl, punk-rock band RACKETT. Over this time, Rebecca toured Australia and Japan, playing hundreds of shows, and also toured Australia with The Darkness, appearing at festivals Groovin The Moo, the Big Pineapple Festival and more, shaping her into a highly engaging, powerful performer and songwriter.
In 2020, Beks emerged as an independent pop artist with her single Stars In My Eyes which charted #1 on the Triple J Unearthed Dance Charts and featured in HYPE Machine, Pop Muzic and more. Her next single The Thing About Us was chosen for a national TV and Radio promotional campaign by the Seven Network for Home and Away and was a finalist in the 2021 International Songwriting Competition. Her work caught the attention of IKEA and was broadcast globally alongside thirty artists who performed in the IKEA Concert Roulette Series.
Her next disco-pop single Devoted peaked at #3 on the global iTunes Dance Charts and received online coverage from NME Australia, Pilerats, Purple Sneakers, Tone Deaf and Thomas Bleach described it as "a glittery affair that immediately transports you to another dimension where you can just let go. It's an escapism, which is wholeheartedly the power and ultimate premise of pop music". The Seven Network picked up the single for another Home and Away national TV campaign and Beks celebrated the release with a sold-out headline show in her hometown of Brisbane at La La Land.
Beks' sound has been described by Dave Ruby Home from Triple J Unearthed as "instant shimmy material….with plenty of bounce and colour" and she has been described as "someone at the cusp of pop's next frontier, no matter how you look at it" by Hayden Davies from Pilerats. She has worked alongside a multitude of songwriters and artists including Taka Perry, Jeremy Beamish (Jude York), Benjamin Beamish (benjamin), Clara Fable, Kim Moyes (The Presets), Muki and more.
Beks was recently featured in the SBS telecast of 2022 Eurovision Australia Decides in the segment featuring their favourite TikTok entries, with a special mention of The Thing About Us.

Larry Heath, A&R Manager at Wise Music says of the signing:
"We're thrilled to have such a talented writer and performer join the Wise Music family. With the music she's already released as a prime example, and an impressive array of collaborations, Beks will be a name on everyone's lips in the coming years, releasing music sure to stick with you long after you've heard it."
Jane English, Managing Director of Wise Music Australia continues:
"Beks has been on our radar as both a showstopping performer and incredibly talented songwriter since her RACKETT days, and it's just fabulous to have her on the team. We can't wait to see where she goes from here - with her creativity and incredibly strong work ethic we're excited to see her career unfold and to support her every step of the way."

Beks says of joining the Wise Music family:
"Joining Wise Music feels like family. Larry Heath, my A&R Manager, has been on my journey throughout all my recording projects, nurturing my craft from experimental into full development. Making our working relationship official is the most exciting thing to happen to me as a self-managed artist."