JUDE YORK RELEASES EUROVISION BALLAD "I WON'T NEED TO DREAM" AHEAD OF UPCOMING EUROVISION AUSTRALIA DECIDES 2022 EVENT
20th January 2022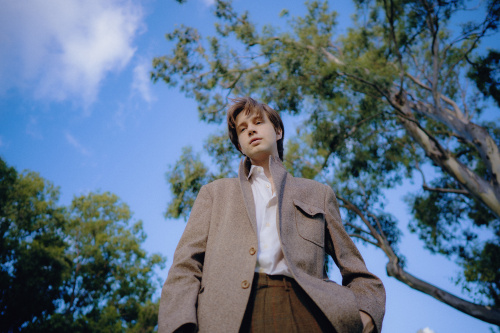 Wise Music Australia songwriter and artist Jude York releases his uplifting and emotional ballad "I Won't Need To Dream" today across all streaming platforms, in the lead up to the Eurovision – Australia Decides 2022 event which will be presented at the Gold Coast Convention and Exhibition Centre on Friday 25 and Saturday 26 February, with the SBS Live TV Final broadcast on Saturday 26 February at 7.30pm AEST. The song was selected late last year from hundreds of compositions submitted for Eurovision glory.
Growing up in Toowoomba QLD with an opera singer mother and composer father, Jude was always surrounded by music, learning the craft of production and songwriting in the family's converted garden shed. After high school, Jude and his brother Ben embarked on a musical journey as "The Beamish Brothers", writing music together and touring Australia, Japan and South Korea, accumulating millions of streams along the way. In 2020, the brothers received an Arts Queensland grant to release their political-pop single and music video "Dollar At the Heart" and performed at the National Live Music Awards, Hidden Lanes Festival and QPAC. Their single "Nature" was chosen as one of the top 20 finalist tracks for Eurovision – Australia Decides 2020 and the multi-talented siblings were featured in the SBS live TV broadcast.
Over the last year, the 22 year old has emerged into the solo spotlight, digging deeper into his own unique and personal story and making a name for himself writing with the likes of Jantine Heij (Odette), Tyler Beans (Harry Styles, Miley Cyrus) Anna Timgren (TWICE, LOONA), Danny Spadaro (Lexi Jayde), Jack Vidgen, Ainslie Wills and AYDAN. Jude also began collaborating as a solo artist with producers such as Rob Tirea (LA), Needs No Sleep, Tina Says and Wastemall, making it to number 5 on the ARIA club charts and receiving rotations on Rage TV and Triple J who noted his "smooth, velvety vocals".
This February Jude will take to the stage at Eurovision – Australia Decides to perform his emotional anthem "I Won't Need To Dream", and by doing so will be fulfilling a huge dream of his own:
"To think of my song being shared on such a monumental platform is truly mind-blowing. I wrote it with the amazing Billy Stonecipher about staying hopeful that dreams can come true. And now to have this opportunity as a queer artist in regional Queensland, I've never had a better reason to believe in that message! I can't wait for everybody to hear this!" – Jude York
Jude's focus is to create music to which one can simultaneously dance and cry. His signature blend of sorrow and joy, heartbreak and heart-lift creates a cathartic listening experience and an emotional depth which transcends genre. All of this, mixed together with a sombre piano, lush synths and Jude's breathtakingly soulful voice creates a powerful combination for an artist starting to make waves.
Jude says of the inspiration behind the song:
"During this time when the future seems so precarious and it's impossible to make plans, I couldn't help but feel a little hopeless - about my life, relationships and career. Billy and I toyed around with a few different ways of translating that emotion into music but it all fell together when I played that first line on piano. The song practically wrote itself from there. We were really inspired by songs of the 30's and 40s like Dream by the Pied Pipers and Over The Rainbow by Jude Garland. The lyrics are simple and optimistic and writing it felt like I was consoling myself, singing a lullaby to help me get through this difficult patch. We've all had an incredibly tough two years and it's so easy to feel hopeless. I want this song to be like a warm hug to anyone who listens to it, a gentle reminder that things can get better and that dreams eventually become reality. For me, this song has already taken me further than I thought possible."
Listen to "I Won't Need To Dream" here
"I Won't Need To Dream" releases February 21, 2022