Embassy Music Publishing signs publishing agreement with Australian pop duo The Beamish Brothers
20th August 2019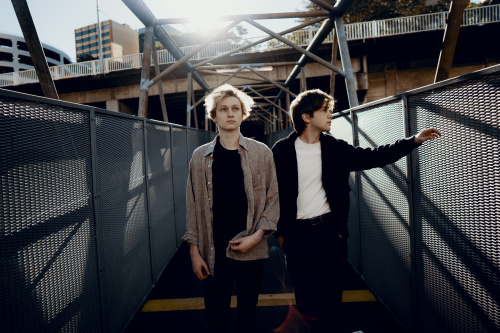 Embassy Music Publishing is excited to announce a worldwide* publishing agreement with rising Australian pop duo The Beamish Brothers, for their debut EP 'Brutalism'.
Ben and Jeremy Beamish, the multi-talented siblings who hail from Toowoomba, are handcrafting a new flavour of intelligent alt-pop music, "a signature style sitting harmoniously between the worlds of folk, soul and pop" (Vicky Hebbs, Amplify).
After successful tours of the US, Spain, Japan and Korea, the brothers are ready to ride the wave of success with their debut EP 'Brutalism'. The 4 track EP features the latest single 'Crying No Tears', a ballad of beautifully laid harmonies and emotion that encapsulates the feeling of seeing someone you love hit rock bottom while still putting on a brave face. The debut music video for their first single from the EP, 'Kills Me Every Time', continues to receive a tremendous amount of attention with over 80,000 streams on Spotify and over 64,000 on their music video alone.
"The duo's synergy is apparent through their attention to and delivery of flawless, celestial harmonies. The pair strike an endearing contrast, aligning elements of fragility with more raw, fiery vocals. Their smooth, minimalistic guitar sound serves as the perfect tool to illuminate their dominant construction of harmonies." — Artist 1 on 1
Managing Director of Embassy Music Publishing (Music Sales Australia), Jane English, says of the signing,
"When I first heard 'Kills Me Every Time' I was not surprised their EP, Brutalism, was already signed for South Korea. It's such an airy, stripped-back acoustic, neo-soul sound, that seems to suit the South Korean market. Everyone at Embassy Music Publishing fell in love with that song. Plus, as a result of their recent tour through Japan and South Korea, The BBs are already in there collaborating with Japanese artists, such as The Syamisenist Japan and Kaiki. Asia is such a natural market for their sound and, as the guys embark on their East Coast tour of Australia to promote Brutalism, they are going to win everyone over here too."
Ben and Jeremy Beamish look forward to working with Embassy,
"We're both so excited to have signed this deal with Embassy for our EP. It's one of those cool moments when the songs we write and record by ourselves in our home studio receive recognition from the industry. We didn't expect this but it's incredible to join forces with the Embassy team and we look forward to seeing where this opportunity takes us and our music."