EMBASSY MUSIC PUBLISHING AUSTRALIA SIGNS DAMIEN LEITH TO WORLDWIDE MUSIC PUBLISHING DEAL
16th November 2017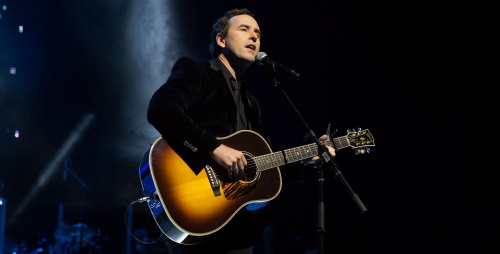 Music Sales Creative is excited to announce the signing of Damien Leith to a worldwide music publishing deal with Embassy Music Publishing, completed recently in the Sydney office with Managing Director, Jane English, and A&R Manager, Larry Heath. Damien will be published worldwide by the Music Sales Group of affiliates.
First capturing the hearts of Australians in 2006 when Damien won his season of Australian Idol, his warmth, talent, and hard work propelled Damien from strength to strength. In a little over a decade, Damien has found great success as a singer, songwriter, producer, author, playwright and TV host, both in Australia and internationally. The multi-ARIA award winner has enjoyed platinum selling albums, with two of his albums reaching #1 on the ARIA Charts (Where We Land and The Winner's Journey), with The Winner's Journey winning the 2006 ARIA Award for Highest Selling Album. This year, Damien won a Golden Guitar for his song cowritten with Travis Collins, Call me Crazy. Damien has also been the recipient of other awards at the MTV Australia Video Music Awards and the Helpmann Awards.
Damien's songs have been chosen to appear in several commercials and television shows, including his song, Beautiful, accompanying a global Estee Lauder advertising campaign and Not Just for the Weekend, being the theme song for the television series, Saving Kids – a show that Damien also hosted. The prolific singer-songwriter has released seven critically acclaimed albums. Not shy of a collaboration, at his Sydney studio (www.damienleithrecordingstudio.com) Damien has written with countless songwriters including Dean Lewis, Ilan Kidron, Adam Harvey, Travis Collins, Missy Lancaster, Dami Im, Demi Louise, Marlisa, Bella Ferraro, Will Singe, Allan Casswell, Amber Lawrence, Ciaran Gribbon, Andy Brown, Diana Rouvas and Chris Rose.
On joining the ever-growing roster of Embassy Music Publishing, Damien said: "I am thrilled to be signing with Embassy Music Publishing. The team at Embassy are incredible and I'm excited about this new writing partnership."
Managing Director of Music Sales' Embassy Music Publishing, Jane English, said: "Damien Leith is a household name in Australia – a celebrated and super talented artist, a prolific songwriter with a history of successful synchs and a love of collaborations. With our superb team of Denise Sharp on synchs and Larry Heath on covers, we aim to take Damien's songs to the next level."
Damien is currently on tour with his self-penned play, The Parting Glass – An Irish Journey. For tour dates and more information on Damien Leith, please see www.damienleith.com.au