MUSIC SALES SIGNS TYRONE NOONAN
23rd June 2017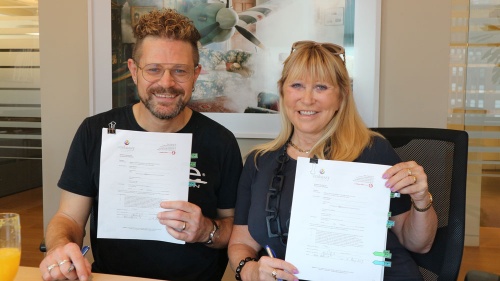 Music Sales Creative is overjoyed to announce its signing of Tyrone ("Ty") Noonan to a worldwide music publishing deal with Embassy Music Publishing Australia, completed recently in the company's New York office with Managing Director, Jane English and Creative Director, Denise Sharp. This will see Tyrone published worldwide by the Music Sales Group of affiliates.

ARIA award-winning Tyrone Noonan began a multi-faceted solo career following his time with numerous bands culminating with eight years on the road with george, a Brisbane band fronted by sister and brother, Katie Noonan and Tyrone. In george, Tyrone provided vocals, guitar, keyboards, production and song writing. george's debut album, Polyserena, entered the Australian national charts at No1, sold double platinum units and won the band an ARIA for Best New Artist. The band released eight EPs, two albums and an award-winning DVD. Last year george celebrated its 20-year anniversary, performed sell-out shows around the country and released a new album compilation of their early indie EPs, the early years.

In 2005, george came off the road for an indefinite hiatus and Tyrone went it alone: releasing his debut pop/rock/soul mini-album "Heavy Soul Part 1" in 2006 with a successful national tour and solid national radio play; relocating to London in 2008 and representing Australia at various festivals including Toast and TNT Month of Music; relocating to New York in 2009 (until 2012) and representing Australia at various Australia Day festivals and Anzac Day ceremonies; releasing his first solo album, I Believe, in 2011 on the back of a successful crowd-funded Pledge Music campaign; and releasing his remix EP I'm A Believer in 2014 with a successful east coast band tour and solid national radio play.

It was Tyrone's album Soniclines that brought him once again to the attention of Embassy Music Publishing. Recently returned to Australia from New York, Tyrone formed a new band, Soniclines, that has produced an amazing cross-over album of the same name that is due for release in 2017. That group comprises Tyrone, multi-instrumentalist Anthony Garcia and special guest digeridoo player, William Barton. Soniclines is soon to be developed into a magnificent visual stage performance.

A prolific songwriter and producer, Tyrone is now working towards a new solo album. He has ready to go co-writes with Grant (G.W.) McLennan (The Go-Betweens), Dave Goode (The Potbelleez) and Dan Rosen (ARIA CEO), among others.