Ludovico Einaudi Shares The Making of 'Elegy for the Arctic'
18th July 2017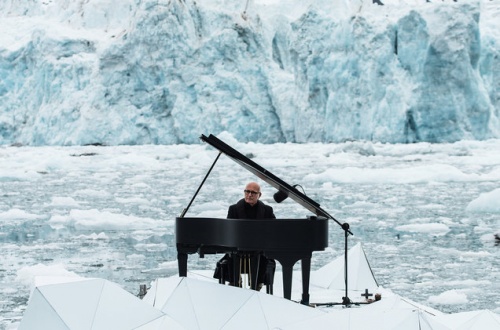 Exactly one year after creating 'Elegy for the Arctic,' Ludovico Einaudi shares the making of his iconic collaboration with Greenpeace. This behind-the-scenes glimpse shows the tremendous effort and care that was taken in creating the video short that affected 4.5 million viewers with its powerful, simple message, and how filming did not entirely go to plan. The footage below shows just how candid 'Elegy for the Arctic' was and further drives awareness to the global crisis both Einaudi and Greenpeace strive to convey.
Greenpeace reflects on the newly-released footage:"The silence broken by the noise of the glacier as it fell off. Some notes torn from a grand piano floating in a sea of ice. Thus began the shocking video with which master Ludovico Einaudi put the soundtrack to the campaign to save the Arctic. It was recorded in Svalbard, in the Norwegian Arctic, just a year ago and managed to bring the thawing problem closer to millions of people around the world. It was not easy to do, but the result was worth it. Discover how one of the most magical moments was built in this campaign that seeks to protect one of the most threatened corners of the planet and on which we all depend."
Einaudi shares his own sentiments: "One year ago I played "Elegy for the Arctic" in support to the campaign for a marine sanctuary in the North Pole's international waters; One year has passed, "Save the Arctic" is still a global priority. We still need your support."
For more information, visit Greenpeace.org and Ludovico Einaudi's website. Photo by Pedro Armestre)
Related News