Hugar Album 'Rift' Out Now
28th January 2022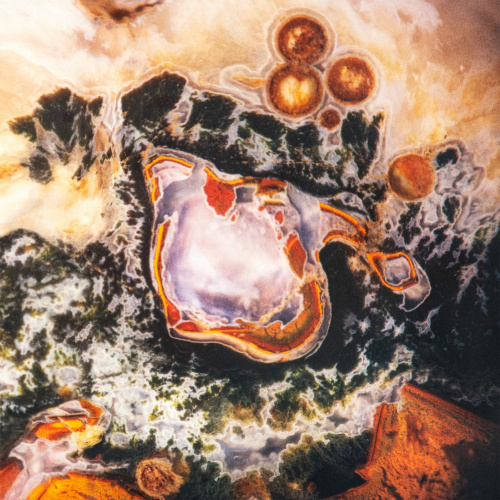 Rift by Hugar, out now!
Hugar are a duo interested in what happens when you pull things apart. Songs. Ideas. Even entire countries. For them, the void one creates is fertile ground for new ideas and new beginnings – the rift as a source of creativity, and a life-giving force. Examining this space inspired new album RIFT, a poised, contemplative blend of ambient electronica, meditative strings, and contemporary neo-classical elements that covers a wide range of themes but was born from a simple, yet profound, observation in their native Iceland.
There is a rift running through the entire island, from the southwest to the northeast. Part of the Mid-Atlantic Ridge, it's where the North American and Eurasian plates meet; their continental drift is ripping Iceland apart at a rate of 3 centimetres a year. Yet far from being a destructive force, it's the site of spectacular growth. Evolution too.
"Organisms are being discovered that don't exist anywhere else, and all sorts of weird stuff is going on," says Þórisson. "It's interesting how growth comes from change like that, and we thought about how it's the same for society, humanity, and culture. Nothing is ever standing still – it's all in a constant state of flux," says Jónsson.
Long-time friends Bergur Þórisson and Pétur Jónsson first met as children, but it wasn't until 2013 that the multi-talented instrumentalists, composers, and producers began writing music together as Hugar. Left in charge of a studio in Iceland while the owner was off on tour, Þórisson called Jónsson and the duo got creative, bouncing musical ideas off each other. The result – their independent, self-titled debut released in 2014 – was given away for free online and has been an immense success.
RIFT, while being a natural evolution of their sound and modus operandi, is their most ambitious project to date. It's a record of fine layers and textures, constantly shifting, hard to pin down. Inventive, too; the duo worked hard at twisting and manipulating sounds and coming up with new ways of arriving at what, on first listen, seems familiar but isn't exactly what you think. It's all part of their mystery and power, and their desire to highlight that sometimes, nothing is as it seems; seeking answers requires diving deeper, and a keen eye for detail.
As such, RIFT is bright in places. Hopeful even. 'volt' is nudged along by a gentle euphoria, while 'far's soft swells have a faint, graceful rhythm. 'form' is a bright summer sunrise, underpinned by a muffled beat that sounds like a human heart, but true exhilaration is found on 'XYZ', a rousing, uplifting mix of strings, beats, and synths. And even in its most poignant moments, songs never wallow in pity or sadness; 'IV's elegant piano, the darker tones of 'solaris', the ethereal, other-worldly dream that is closing track 'bless'.
That mix of colour and texture is reflected in RIFT's artwork. They are photographs, by Jónsson's Great Grandfather, of the inside of rocks found in the faults of Iceland. "They look just like regular rocks, but cut them in half, shine a light through them, and there's this new dimension, new shapes," says Jónsson. "You pull them apart and find something totally different and unexpected. That's very symbolic of this whole project."
Symbolic, and fitting. The same idea, centuries apart, beautifully illustrates the shifting sands of time, and how greater forces shape our world on a scale we can barely fathom. What gaps they leave though, RIFT suggests, might be our best chance of affecting positive change.
Listen to Rift here!
Related News