Gigi Masin Signs Exclusive Songwriting Agreement With Wise Music Group
8th December 2021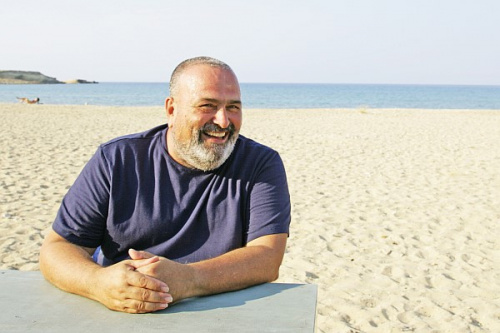 Wise Music Group has signed an exclusive songwriting agreement with the Venetian ambient composer Gigi Masin. The deal encompasses his entire catalogue and future works. A composer, musician and producer, Gigi is a master of ambient music. He is best known for the self-released LP Wind, as well as the album Les Nouvelles Musiques Du Chambre, featuring the track 'Clouds' later sampled by the likes of Bjork, and Post Malone, To Rococo Rot and Nujabes.
His latest album "Calypso" was released on R&S/Apollo records in February 2020, marking a new phase in Masin's musical evolution, following re-releases and retrospectives on the Music From Memory label. With more international tour dates, upcoming collaborations, and a continuous refusal to be pigeonholed, Gigi Masin continues to be one of the most quietly innovative and singular artists in the scene.
Gigi Masin says: "I feel embraced by the Wise Music team – more than meeting old friends it was like coming home. That makes all the difference, and it's special – if you've been sailing though the music for years, you will understand so well that's unique. I'm sure it will be a fantastic opportunity. If they say that the swallow flies because it has wings…instead I believe the swallow flies because it has the whole blue sky around it. And it is magnificent and safe, in its sky."
Global Head of Media, Marcus Wise, comments: "It's such a pleasure to have Gigi join the Wise Music roster. He is a singular talent, who has been composing and performing beautiful and inspiring music for years with a unique sound. Already hugely respected by peers and fans, we are looking forward to supporting Gigi's assent in the global film and television markets."


About Gigi Masin
"My parents simply didn't understand why I'd love to study music. They believed to study music or to become a musician or composer was a silly idea...I had to find my own way and it wasn't so easy."
Always an innovator, Gigi's first experiments in the late 1970s were sound collages made while working for theatres in Venice, working with tape loops, field recordings, and turntablism, which culminated in the release of his debut album Wind in 1987. Underappreciated upon release, Wind soon gained a cult following among late night radio listeners who connected with the gentle echoes of the Venetian landscape created by a native son. Released for free, Gigi never expected much to come of it.


Although his 1989 joint album for Sub Rosa with This Heat's Charles Hayward, Les Nouvelles Musiques Du Chambre, took on a life of its own when it was sampled by Björk, To Rococo Rot, Nujabes, Black Eyed Peas, and Post Malone, Gigi remained in obscurity. His output slowed from the early 90s as he raised a family and worked dutifully for Il Posto. Eventually in 2014, however, Dutch label Music From Memory released Gigi's Talk To The Sea, a retrospective of the past 30 years of his output, favourites handpicked by label heads Jamie Tiller and Tako Reyenga. Through the label, Gigi collaborated with Jonny Nash and Marco Sterk (Young Marco), to form the trio Gaussian Curve, releasing their debut album Clouds in 2015. Gigi says it was "an instant friendship", a dream collaboration where they only had to sit in a studio and "let the music fill the space". Back in Italy, he struck up a relationship with Luciano Ermondi and Paolo Mazzacani of Tempelhof after a show in Mantua, releasing two albums for label Hell yeah – Hoshi and Tsuki – in 2014 and 2016 respectively.
With more international tour dates, upcoming collaborations, a new album – Calypso – just released by R&S/Apollo, and a continuous refusal to be pigeonholed as ambient, new age, Balearic, modern classical, or whatever you wish to call him, Gigi Masin continues to be one of the most quietly innovative and singular artists in the scene. Not wanting to rest on his laurels and remain tethered to past triumphs, he remains facing forward, doing things "in the same way I did in the past, when nobody cared".
About Us
Wise Music Group maintains a global network of standalone offices including Berlin, London, New York, Los Angeles, Sydney, Copenhagen, Madrid, Paris and Tokyo. The group's publishing houses and imprints include some of the most famous names in the history of music including Chester Music, G. Schirmer, Associated Music Publishers, Novello & Co, Éditions Alphonse Leduc, Première Music, Le Chant du Monde, Edition Wilhelm Hansen, Unión Musical Ediciones, Bosworth Music GmbH, and Campbell Connelly.
Wise Music Group owns or controls nearly half a million copyrights – including the world's largest independent holding of historic and contemporary classical music – as well as a huge range of popular songs spanning evergreen, jazz, reggae, blues, pop and rock. The group also represents nearly 100 of today's most successful living composers and songwriters working in classical music, opera, ballet, pop, film, television, and advertising. Represented composers include Ólafur Arnalds, Samuel Barber, Ludovico Einaudi, Philip Glass, Olivier Messiaen, Missy Mazzoli, Igor Stravinsky, Jean Sibelius, Kaija Saariaho, Tan Dun, Joby Talbot and Anna Thorvaldsdottir.
For further information contact
Kate Johnson kate.johnson@wisemusic.com +44 (0)7920 197 354 (London)
Bobbi Marcus PR bobbi@bobbimarcuspr.com +001 310 889 9200 (Los Angeles)
wisemusic.com
Related News