BBC's Wonders of the Celtic Deep soundtrack by Paul Mealor
8th October 2021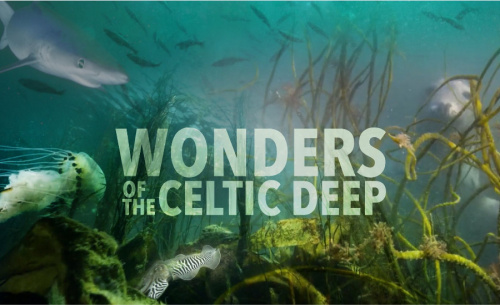 A new BBC Wales TV series Wonders of the Celtic Deep, accompanied by a soundtrack by world-renowned Welsh composer Paul Mealor, will be aired throughout October with the first of four episodes broadcast on October 12.

The dramatic series soundtrack composed by Mealor over 2021 is played by BBC National Orchestra and Chorus of Wales with narration by BAFTA winning Welsh actress Dame Siân Phillips.
The series shines a light on the extraordinary creatures, secretive shallows and hidden depths along the spectacular coast of Wales with Mealor's music heightening the drama, wit and humour, as well as the tragedy of life out at sea.

Mealor shared his thoughts on the project: "It's been a true joy writing the music to this epic natural history series which explores footage never been seen before. Music, if done right, can add so much to film and tv. I hope I've been able to capture in music the myriad of sea worlds - from the largest whales to the smallest fish - in this extraordinary programme."

Filmed in Ultra High Definition (UHD) and made by some of the film-makers behind natural history series Blue Planet, it visits an area of the world which has never previously been explored in such detail. The series has captured an incredible array of species including blue sharks and Fin whales - the second biggest animal on the planet after Blue Whales - along with seabirds that can 'fly' underwater, and fish that can breathe on land. The final episode in the series also highlights the work of scientists and volunteers around Wales and investigates the bigger environmental issues raised by the series.
Welsh Government Deputy Minister for Arts and Sport, Dawn Bowden, said of the series "Wonders of the Celtic Deep is celebration of Welsh creativity – a stunning orchestral soundtrack created by a Welsh composer, voiced by a Welsh legend and filmed across some our country's most stunning coastal locations. One Tribe TV has created a stunning piece of work that I hope viewers will enjoy."

The brand-new landmark series will be available on BBC One Wales and BBC iPlayer in October with the first episode available on Tuesday 12 at 21:00 UK. Watch here.