"Air" - new single by Konni Kass
23rd oktober 2020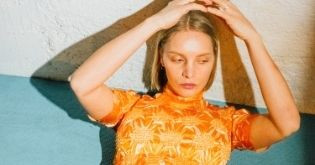 "Air" - the new single by Konni Kass is out now!
Born on the remote Faroe Islands in the North Atlantic Ocean, Konni Kass grew up surrounded by music and nature. Kass's music is about being true to herself. She is driven by her creativity and does things her own way in her own time. Her music is inspired by pop, soul, rnb, and jazz mixed with her Nordic roots.
Konni Kass's debut album "Haphe" (2016) was praised by critics and appointed "Album of the Week" by Berlins Radio Eins. Kass has since then warmed up for Tom Odell, Eivør, and played at festivals such as Reeperbahn Festival, Iceland Airwaves, Spot Festival, by:Larm, Eurosonic, and Roskilde Festival.
Four years later she's back with her first new single "Air" - a soulful pop song. Airy, light, yet still grounded. Air was written at a very creative period in her life when she was studying in Iceland. Konni Kass says: "It's about seeing someone you love not being able to breathe and feeling mentally unwell. And you're looking for some kind of confirmation that the other person still cares and still wants you to be there by there side because all you want to do is help. It's definitely a plaintive tune, but still a little bit hopeful."
Related News