Ab 3.1. im Kino: "Die Frau des Nobelpreisträgers"
4th Januar 2019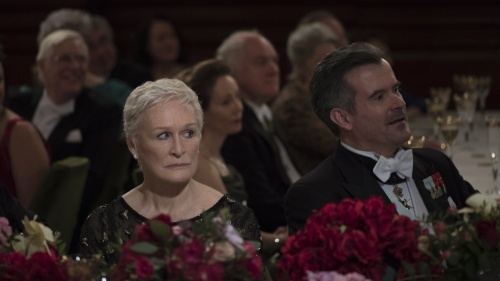 GERMAN (for English see below): Jocelyn Pook hat den Score zum Film "Die Frau des Nobelpreisträgers" (The Wife) geschrieben, der seit 3. Januar auch in Deutschland zu sehen ist. Der Film erzählt von einer Frau, die anlässlich einer Reise nach Stockholm, wo ihr Ehemann mit dem Nobelpreis für Literatur ausgezeichnet werden soll, ihr bisheriges Leben im Schatten ihres Mannes hinterfragt. Neben Glenn Close in der Hauptrolle sind auch Christian Slater und Jonathan Pryce zu sehen. Die Regie führte der schwedische Regisseur Björn Runge. Der Score ist bei Node Records erschienen.
ENGLISH: "The Wife" can be seen in German cinemas since 3 January 2019. The cinematic adaptation of Meg Wolitzer's novel The Wife had already premiered at the 2017 Toronto International Film Festival. Glenn Close stars opposite Jonathan Pryce in the film which tells the story of a woman who questions her life choices as she travels to Stockholm with her husband, who is set to receive the Nobel Prize in Literature. The Wife was directed by Björn Runge and has a soundtrack by Music Sales composer, Jocelyn Pook. The score was released by Node Records.