The String Theory feat. vōx – No One Believes A Ghost
17th October 2021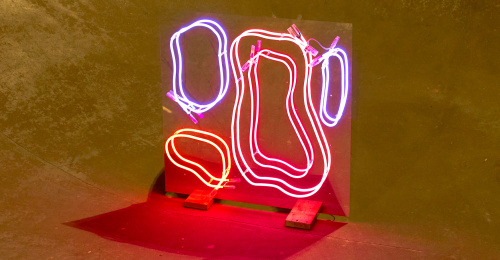 Listen to "The Los Angeles Suite" here
Singer, songwriter, and visual artist vōx (Latin for "voice," pronounced "wokes") approaches all of her projects holistically—creating an engaging and thought-provoking audio-visual world where viewers and listeners can feel safe and find power in vulnerability. As a teenager, vōx turned to songwriting as an escape from her small, conservative town. Years later, it became a therapeutic vehicle—helping the Los Angeles-based artist confront years of trauma and transform shame into strength. Drawing comparisons to such pioneering artists as Björk, Kate Bush, and Tori Amos, vōx has drawn praise from the likes of Billboard, Paper, FADER, and Dazed.
Grammy-nominated artist collective The String Theory from Berlin and Gothenburg may be known primarily for their long-term collaboration with the gentle Swedish troubadour José González, yet have over time grown into prolific recording artistsin their own right, curiously exploring the outskirts of contemporary neo-classical and electronic music and the uncharted territory in between. These two got together in April 2019 when The String Theory had just wrapped up their North American tour with José González and stuck around in Los Angeles the week after to record an album with local artists and musicians. Enter vōx. She arrived in a transparent red dresss waying in the air. Its fabric was so thin it was almost non-existing. It was more like there was red air around her. Ethereal, ephemeral, yet inescapable. When a person and their personaare so in sync (and they happen to be such a darling girl as vōx) it creates channels in the ether. vōx has carved out a niche of her own, utilizing sounds from R&B and electro, slick and distorted alike, and an expressive, daring visual identity that appeals more to the high end fashion and contemporary art scene. The kind of crossover they love in Berlin. So maverick orchestra The String Theory and this exceptional songstress felt right at home with each other.
'No One Believes A Ghost' is a haunting, eerie track with delicate hooks and an almost cinematographical arrangement by wunderkind composer Daniel Clive McCallum from Malibu, himself an Emmy-awarded film composer and Royal Academy of Music alumnus, who also conducted the orchestra.The song was written the night before the recording session. 35 performers who had never met before, recorded it live and turned this intense and brave approach into an almost transcendental happening.The album
'The Los Angeles Suite'
from which 'No One Believes A Ghost' is taken is currently up for Grammy consideration.