Music Sales Corp. Announces Worldwide Publishing Purchase from The Tubes Songwriter Mike Evans
11th October 2019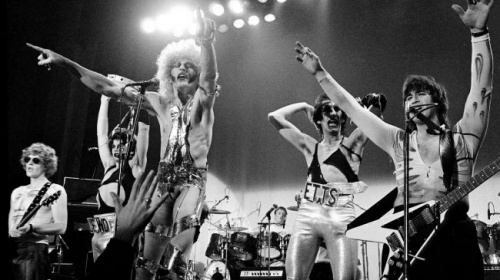 Music Sales Corp. is excited to announce the worldwide publishing purchase of certain copyright assets from Mike Evans, a key lyricist for the progressive-punk group The Tubes, who penned many iconic hits including "White Punks on Dope," "What Do You Want From Life," and "I Was A Punk Before You Were a Punk."

Known for their larger-than-life shows and satirical lyrics highlighting America's consumerism and celebrity culture, The Tubes were a cult-classic and a notable part of the underground music scene during the 1970s and 1980s.
"I am convinced my songs have landed in a great place … a place that will work hard to promote them. And now the songs are publishing mates with the legendary Dion DiMucci … quite an honor," Mike Evans reflects on the deal.

"We are thrilled to welcome Mike Evans' catalog to Music Sales," says Jeffrey Duncan, Executive Vice President of Music Sales Corp. "The Tubes undeniably shook up the 70s' and 80s' cultural landscape with their rugged individualism and fearless parodies, and Mike is responsible for co-writing many of their hits, which consistently see new life."
The anthemic "White Punks on Dope," written by Mike Evans, Bill Spooner, and Roger Steen, ridiculed kids of Hollywood's rich and famous, and helped propel the San Francisco-based group to widespread popularity.

"Their fortunes changed almost immediately," Evans shares. "Between 'White Punks on Dope,' 'What Do You Want From Life,' plus their superior musicianship and circus-like live show, The Tubes became a Bay Area sensation. It became pretty commonplace to see WPOD spray-painted on walls around San Francisco. The excitement grew and led to The Tubes being signed to A&M Records and releasing their first album in 1975."
Prairie Prince, drummer for The Tubes, also describes how "White Punks on Dope" took off. "Mike Evans was our little Messiah. Everything that he said we were always holding onto with some reverence and taking his advice on what would work and what were the kids going to like. We went with that and it became an instant underground classic in the Bay Area and then spread out across the world."

Continuing to hold cultural prominence and relevancy, "White Punks on Dope" has received many interpretations including by Motley Crüe, Nina Hagen, Elton Duck, and was parodied by Ric Ocasek (of The Cars) within the 1993 film Fear of a Black Hat. Additionally, a new cover has been released today by rock mega-group Down 'n' Outz, fronted by 2019 Rock & Roll Hall of Fame Inductee Joe Elliott of Def Leppard.

Attracting Cher, Gene Simmons, Kate Jackson, and more as fans, The Tubes' live shows featured lewd characters, inflatable props, explosions, dancers, acrobats, and choreography by Kenny Ortega (later known for Dirty Dancing and Michael Jackson's This Is It tour). Additionally, they were one of the first acts ever to incorporate the use of video projections in performance.