Dan Aykroyd and Schirmer Theatrical Release 'Ghostbusters in Concert' Promotional Video
8th June 2018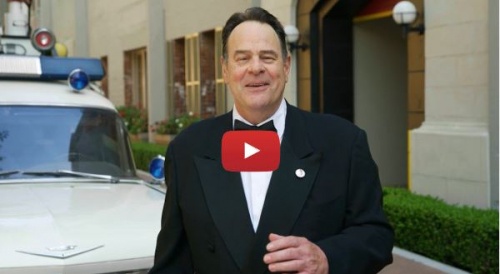 In celebration of Ghostbusters Day this June 8th, Schirmer Theatrical (part of the Music Sales Group) has released a Ghostbusters in Concert promotional video featuring one of the blockbuster's original writers, stars and paranormal investigators, Dan Aykroyd.
The first-look video presents a teaser for the forthcoming film with live orchestra concerts, which were first announced by Variety in March. In the style of a mock public service announcement, Aykroyd, poised before the Ecto-1 and the Ghost Corps headquarters, announces that the "boys" are back to save orchestras and audiences from an amorphous green vapor posing as a music critic, in addition to other, yet-to-be discovered ghosts which have recently started haunting the performing arts world.
At each concert, the classic film will be screened with a live performance of Elmer Bernstein's Grammy-nominated score and Ray Parker Jr.'s Billboard Hot 100 chart-topping "Ghostbusters" theme song. A production of Schirmer Theatrical, the concerts are presented under license from Columbia Pictures (a Sony Company), Ghost Corps, Sony/ATV Music Publishing and Raydiola Music.
For more information on Ghostbusters in Concert, view the Sony Pictures Entertainment press announcement, and visit www.schirmertheatrical.com/ghostbusters. For initial concert dates and ticketing information, visit https://www.facebook.com/SchirmerTheatrical/.