Jack Carty Signs With Embassy Music Publishing To A Worldwide Music Publishing Deal
6th October 2017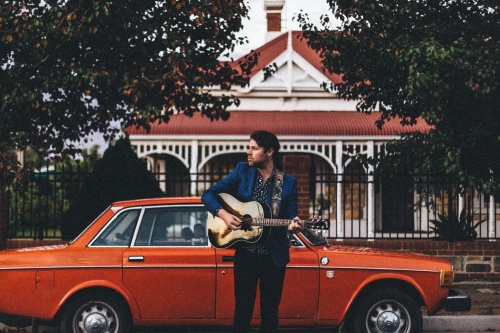 Jack Carty has signed a global music publishing deal with Embassy Music Publishing. This signing comes hot on the heels of the appointment by Managing Director, Jane English, of Larry Heath as the A&R Manager of the Music Sales Australia companies.
"I first saw Jack Carty live in Canada (of all places) almost seven years ago", says Heath, "and have been watching him develop as a songwriter and a performer ever since. He's grown into one of the finest contemporary songwriters in Australia, and I'm thrilled to have him join the Embassy Music Publishing family, as well as to have such a phenomenal talent as my first signing."
Carty's story stands as testament to the power of great songs, great stories, grassroots determination and a spellbinding live show; cementing his reputation as a writer and performer of incredible depth and imagination.
It's been a big few years for the award winning, critically acclaimed Australian singer-songwriter. Following the release of four full-length albums and two EPs; extensive national and international touring; appearances at SXSW, Primavera and Canadian Music Week; co-writes with the likes of Dan Wilson (Adele, Taylor Swift, Semisonic), Josh Pyke & Katie Noonan; a national MusicOz award for Acoustic Singer-Songwriter of the year; and a biannual APRA Professional Development Award in the Popular Contemporary Category; Carty has recently relocated to the UK to write, release and tour from his base in the Cotswolds.
In the midst of all this, Carty decided to start his own label and release an album he produced, performed and recorded entirely himself in a tiny apartment in Brisbane's Red Hill. The result was Home State, one of Rhythms Magazine's Top 10 albums of 2016. It debuted at #1 on the AIR …Independent album chart and #36 on the ARIA Album Chart. Such was the stir the album caused on home soil that it was picked up for release in the UK by Gilded Lily/Absolute.
"It's a wonderful thing to meet people in the music business with the love and commitment to care, sacrifice and put in as much as the musicians themselves. Larry Heath is one of those people and I am so excited to be working with him, Jane and the entire Embassy Music Publishing team around the world on some very exciting plans for the future."
For more information on Jack Carty, please visit www.jackcarty.com and watch his music video below for "A Way With Me."