Greenberg Artists and Schirmer Theatrical Announce New Co-Production Agreement
15th December 2016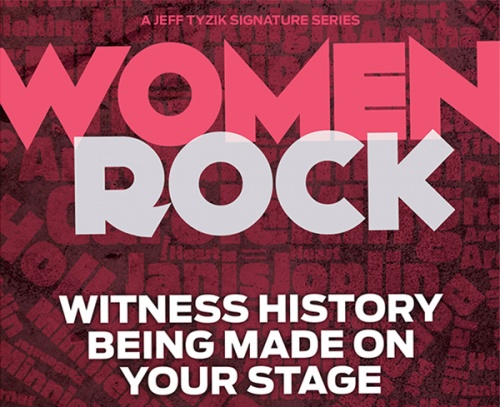 Schirmer Theatrical, LLC (part of the Music Sales Group) and Greenberg Artists are pleased to announce a co-production agreement with Grammy Award-winning arranger/conductor Jeff Tyzik to create and produce high-end symphonic pops concerts. Women Rock, a celebration of the great female songwriters from the 1970s and 1980s, signifies the partnership's first collaboration. The concert will premiere June 2, 2017 with the Rochester Philharmonic at Eastman Theatre's Kodak Hall.

"I'm excited to be collaborating with Schirmer Theatrical and Greenberg Artists to produce the highest quality symphonic pops programs for orchestras," said Tyzik. "It has been my goal over the past thirty-five years of conducting and arranging music for orchestras to elevate the pops concert format. This new partnership will provide innumerable resources for creating wonderful programs in the years to come."

"Greenberg Artists is thrilled to partner with Schirmer Theatrical and Grammy Award-winner Jeff Tyzik to create exciting new pops programs for 21st-century audiences and orchestras," said Jami Greenberg, President of Greenberg Artists. "We look forward to creating programs with the very highest level of musical integrity, as well as bringing incredible entertainment and production value to symphony orchestras around the world."

"We're honored to work with Jeff Tyzik, one of America's top orchestral pops conductor/arrangers and Greenberg Artists, a premiere agency for orchestral pops shows and conductors, in creating high quality orchestral programming," said Robert Thompson, President of Schirmer Theatrical.

Jeff Tyzik is truly in high demand across North America as a pops conductor. He is the creative force behind the Rochester Philharmonic Orchestra's (RPO) Pops, where he has led the orchestra for twenty-three years. Tyzik also serves as Principal Pops Conductor of the Detroit Symphony, Oregon Symphony, and The Florida Orchestra. He additionally holds The Dot and Paul Mason Principal Pops Conductor's Podium at the Dallas Symphony Orchestra. As a composer and arranger, Tyzik's compositions have been recorded by the London Symphony Orchestra, Erich Kunzel and the Cincinnati Pops Orchestra, the Rochester Philharmonic Orchestra, the Vancouver Symphony, and Doc Severinsen with the Royal Philharmonic Orchestra. He has also produced and composed theme music for major television networks including ABC, NBC, HBO, and Cinemax.

Greenberg Artists is an artist management agency that strives to bring the absolute highest level of talent and musical integrity to audiences across the country. Its group of highly esteemed, seasoned, and respected musicians have a proven track record of bringing cutting-edge and innovative programming to orchestras throughout the US and abroad.

Schirmer Theatrical is a creative producing company that specializes in the development of theatre, film with live orchestra and symphonic pops concerts. Schirmer Theatrical recently produced the world premiere of the Oscar-winning film The Red Violin, screened with live orchestra, at the Festival de Lanaudière in Montreal. Women Rock is anticipated to be the first of many concerts in the company's collaborative symphonic pops series.