Schirmer Theatrical Presents: The Red Violin With Live Orchestra
14th October 2016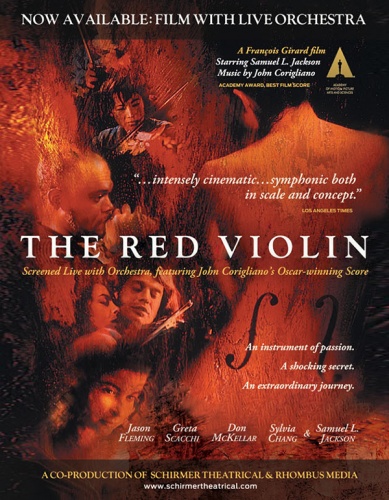 Now Available: 'The Red Violin' with Live Orchestra
Experience this Academy Award-winning film (performed live with orchestra featuring John Corigliano's lush and brilliant Oscar-winning score) that follows a mysterious antique violin as it travels through four centuries, impacting all who come in contact with it — from its creation by a legendary violinmaker in 1681 Cremona, Italy — to a present-day auction house, where it draws the eye of an expert appraiser (Samuel L. Jackson).

The Red Violin Film with Live Orchestra includes the original, re-mastered 1998 film and the reconstructed, newly engraved Oscar-winning film score. The Red Violin is available for screening with English, French, Italian, German, or Japanese subtitles.


The Red Violin Film with Live Orchestra: Now Available! from Schirmer Theatrical LLC on Vimeo.
Whenever the music swells in this extravagant time-traveling costume drama tracing the…life of a priceless hand-crafted violin, The Red Violin begins to assume the intense emotional colors of John Corigliano's ravishing score - The New York Times
For more information, contact:

Schirmer Theatrical, LLC
+1 (212) 254-2100
Alyssa.Foster@musicsales.com

For booking in North America, contact:

Christina Baker at Baker Artists, LLC
+1 (646) 360-2677
Cb@bakerartistsllc.com

For booking in Europe, contact:

Jeremy Woods, Music Sales
+44 (1223) 830-825
Jeremy.Woods@musicsales.co.uk