Jacob Groth Presents Benefit Concert For Friends of Griffith Park
21st September 2016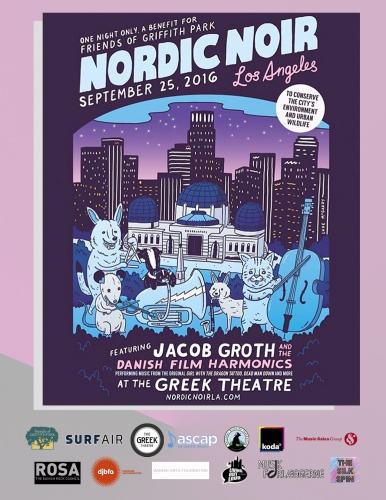 Music Sales Corporation is excited to announce with their EMMY-award winning composer Jacob Groth, Nordic Noir LA: A Benefit Concert for Friends of Griffith Park. The concert will be held on Sunday, September 25th at Griffith Park's legendary Greek Theatre. The celebrated Danish composer known for his work in The Girl With The Dragon Tattoo and the CBS TV series Unforgettable, presents with the Danish Film Harmonics Orchestra, a musical evening to showcase the Friends of Griffith Park's goals of conserving the environment and urban wildlife surrounding Los Angeles. The event also aims to illustrate Nordic culture through exceptional sound.
The concert will premiere never-before-heard renditions of Groth's compelling scores including The Girl With The Dragon Tattoo, Dead Man Down and more through an audiovisual experience. Guests will additionally enjoy local artist pop-up shops, live DJ sets and performances by the Holman United Methodist Choir.
A known environmental supporter and a LA hiking enthusiast, Jacob Groth is offering free tickets to teachers and students in the Los Angeles community.
"Performing at the Greek Theatre in Griffith Park is a dream come true," says Groth. "The idea of combining an artist-centric celebration with like-minded artists to support the urban wildlife, such as P-22, has been in my mind for a while. Once we discovered the work being done by Friends of Griffith Park, I knew we had the winning recipe."
The renowned composer and musician recently signed with Music Sales Corporation this summer. Groth has agreed his publishing deal with Edition Wilhelm Hansen, the Copenhagen-based affiliate of the Music Sales Group of Companies.
Chris Butler, Head of Publishing & Rights at Music Sales has noted: "Within the world of film and high-end drama Jacob Groth's name is a byword for quality. We are very excited that we now have an opportunity to join with this remarkable composer and help him grow what is already a magnificent body of work."
For tickets and more information regarding Nordic Noir LA please visit: http://www.nordicnoirla.com/
Doors open at 6PM. Concert begins at 8PM.
The Greek Theatre is located at 2700 N. Vermont Ave., Los Angeles CA 90027.
Admission tickets are available for $40 - $200 each.
VIP guests will enjoy complimentary Nordic cuisine and beverages at the 7:00 p.m. reception on the Redwood Deck.