Best Sony Classical releases for Synch
1st abril 2016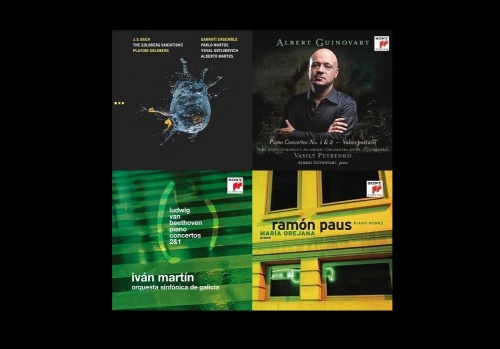 Enjoy great classical works, the performance of the most prestigious musicians and new high quality recordings released on the prestigious label Sony Classical, all available for synchronization.
Playing Goldberg is one of the latest arrangements for string trio of Johann Sebastian Bach's Goldberg Variations. This work originally composed for piano is being revised by Garnati Ensemble in a very playful manner: on the one hand giving new colour to one of Bach's most popular works, and, on the other hand, being extremely respectful with the original.
Composer Albert Guinovart celebrates two of his key orchestral works in this fantastic recording, which features the great conductor Vasily Petrenko. The Piano Concertos 1 & 2 are performed by the composer in the piano solo parts. This record release also includes the extremely beautiful Valses poéticos for piano solo, also in a magnificent performance by Albert Guinovart.
The third release is Ludwig van Beethoven's Piano Concertos 2 & 1 by one of Spain's most delicate piano players: Iván Martín. The fantastic Orquesta Sinfónica de Galicia reinforces Martín's performance of two scores, which were also revised by him.
Last but not least, we would like to draw your attention to one composer of an extreme sensibility, Ramón Paus. His Piano Works encompass his background as a jazz musician with a unique touch for contemporary classic. Pianist María Orejana offers a wonderful performance of this highly personal music.