Wise Music acquires catalogue of Riz Ortolani
11th december 2020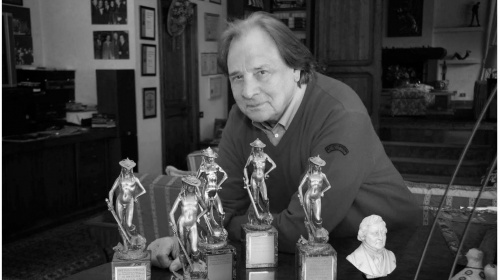 WISE MUSIC GROUP ACQUIRES CATALOGUE OF LEGENDARY ITALIAN FILM COMPOSER RIZ ORTOLANI
Wise Music Group is proud to announce it has acquired the catalogue of legendary Italian composer Riziero 'Riz' Ortolani.

Ortolani, who passed away in 2014 at the age of 87, was one of the most important Italian composers of the last century. He scored over two hundred films, working at first within the Italian genres of Mondo, Giallo and the Spaghetti Western before going on to score many Hollywood movies including The 7th Dawn, The Yellow Rolls-Royce, The Glory Boys, The Battle For Anzio, Buona Sera, Mrs Campbell and The Valachi Papers. His most famous composition is More which he wrote for the documentary Mondo Cane. It won the 1964 Grammy for Best Instrumental Theme and was nominated for an Academy Award. In 1965 Forget Domani won a Golden Globe for Best Film Song (from The Yellow Rolls-Royce). His music has been re-used in recent movies such as Drive, Django Unchained, Kill Bill (Vols I & II), and Inglourious Basterds.
Wise Music Group Chief Executive Officer, David Holley says: 'We're pleased to give the wonderful catalogue of Riz Ortolani a home in our family-run business. The rich legacy of his work in the world of Italian film music and beyond into Hollywood is something that we feel honoured to protect and build on through our global network. We look forward to creating fruitful opportunities for this stellar collection of rights.'
Chris Butler, Director of Global Rights Development at Wise Music Group comments: 'We are delighted to have acquired the works of Riziero Ortolani that are national treasures and enduring evergreens.'

About Riz Ortolani
His movie career started in 1962 with the soundtrack for the Mondo Cane documentary. The main song in the movie, More, sung by Katyna Ranieri (his wife), resulted in an Oscar Nomination in 1964 as "Best Theme Song" and won the Grammy Award as "Best Instrumental Theme". More went on to be recorded by over a thousand different artists and is one of the most covered songs in music history.
Ortolani went on to score many movies for the Hollywood movie studios working, with directors like Vittorio De Sica, Dino Risi, Franco Zeffirelli, Terence Young, and Edward Dmytryk, as well as having long and fruitful artistic associations in Italy with Damiano Damiani and Pupi Avati. His scores include from Mondo Cane, The Easy Life, Anzio, Farewell Africa, The Yellow Rolls Royce, Women of the World, Valachi Papers, Brother Sun, Sister Moon, Ma Quando Arrivano Le Ragazze, La Rivincita di Natale, Il Papà di Giovanna and Una Sconfinata Giovinezza.
In recent years the ever innovative composer wrote a symphony (2001's Sinfonia della Memoria - Symphony of Memory), a ballet (In Una Parte di Cielo) based on the life of Michelangelo, and in 2007 the Musical Il Principe della Gioventù/La Conguira, inspired by the Pazzi conspiracy, the plot by the Pazzi family to overthrow the Medici family as rulers of Renaissance Florence. Having conducted many famous symphony orchestras, he also had a successful tour of Japan with the Vienna Symphony. Ortolani received numerous awards and citations during his life and in 1995 was made a Commendatore of the Italian Republic by President Scalfaro, one of the highest honours that country bestows. In 2006 He received a BMI USA Special Citation of achievement over seven million broadcast performances of "More" and over fifteen hundred different versions recorded by major artists and orchestras, with over 70 million copies sold, and in 2013 was awarded the Lifetime Achievement Award from the World Soundtrack Academy.