Music Sales acquires worldwide publishing rights to Julius Eastman catalog
22nd februar 2018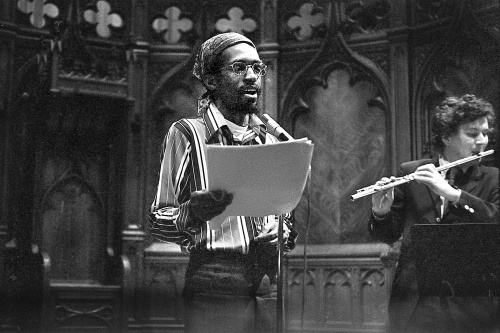 G. Schirmer, Inc., part of The Music Sales Group, announces it has acquired the worldwide publishing rights to composer Julius Eastman's catalog, including iconic works such as Femenine (1974), Stay on it (1973), and the controversial Nigger Series (1978-1979). The New York Times broke the news earlier today.

Eastman has been praised for his fearlessness and originality as a composer, performer and pianist, mostly active in the 1970s and 1980s. An unabashed pride in his race and sexuality defines his artistry, along with his pioneering synthesis of minimalism and improvisation. "What I am trying to achieve is to be what I am to the fullest," Eastman said in 1976. "Black to the fullest, a musician to the fullest, a homosexual to the fullest." Blurring the boundaries between joy and austerity, his legendary compositions and performances were an extension of the life he led. Eastman tragically fell from the public eye during the final years of his life, plagued by mental illness, drug addiction and homelessness. He died on May 28th, 1990, in Buffalo, NY, and it would be nine months before a proper obituary was published in The Village Voice.

Portions of his scattered, forgotten catalog have since been collected by composer Mary Jane Leach, whose archival work precipitated the essential album Unjust Malaise (New World Records, 2005) and book Gay Guerrilla: Julius Eastman and His Music (2015). These led to a growing awareness of and respect for Eastman and his music.

"Minimalist Composer Julius Eastman, Dead for 26 Years, Crashes the Canon," wrote The New York Times in 2016. An outpouring of festivals, performances, commercial releases, and publicity continue to intensify Eastman's fame and celebrate his singular genius: this past month in New York City, The Kitchen presented Julius Eastman: That Which is Fundamental. Other recent Eastman celebrations include those of the London Contemporary Music Festival, Monday Evening Concerts in Los Angeles, and Bowerbird in Philadelphia. Audiences and critics alike are quick to celebrate Eastman's resurgent body of work, which The New Yorker recently described as "wild, grand, delirious, demonic…an uncontainable personality surging into sound."

"Julius' music profoundly affected both composition and performance since he first came on the scene in the mid-20th century," writes Gerry Eastman, brother of Julius, and accomplished saxophonist. "No one contributed so much to the ever-expanding breadth of musical composition emanating out of the seeds of minimalism which he alone planted. That such a renowned music publisher as G. Schirmer is dedicated to nurture and disseminate my brother's music is a tremendous honor for him and our entire family and a gift to the public in general."

"Publishing Julius Eastman's catalog represents an opportunity to correct both a social and musicological wrong," said Schirmer President Robert Thompson. "The canon of American contemporary music cannot be considered complete without inclusion of Eastman's compositions, which until recently have gone largely neglected and unpublished. Now that Julius Eastman's work has found a home at G. Schirmer, we are eager to facilitate the continued international discovery of this American master. We are deeply grateful to Gerry Eastman and the Eastman estate, and to those dedicated musicians and scholars who have worked tirelessly to bring the genius of Julius Eastman to the public."
(Photo by Ron Hammond)