"Blue Skies" Project Launches Today to support UNHCR and Ukrainian Refugees
4th December 2022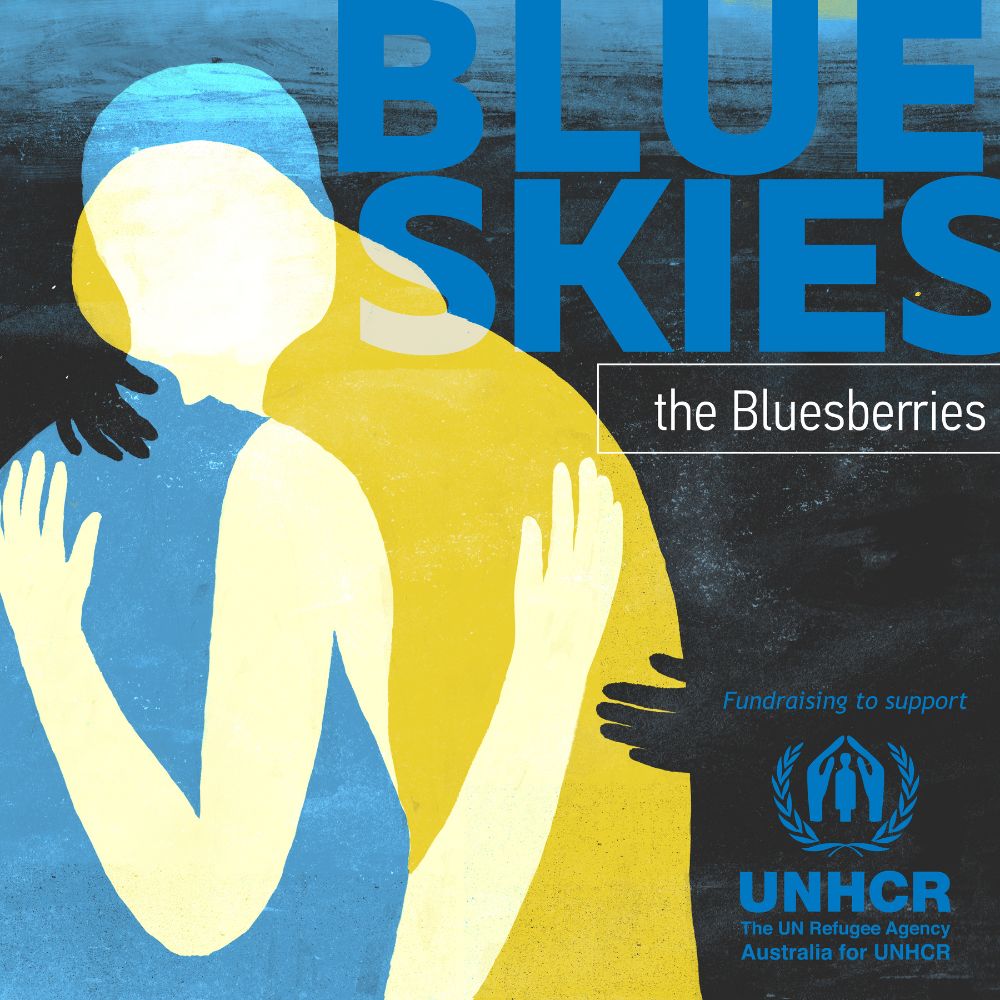 The Bluesberries include musician and BBC journalist Daniel Fallon, globally renowned composer/producer/musician Paul Beard (who has worked with James Blunt, Robbie Williams, Lily Allen, Art Garfunkel, Bryan Ferry and more) and Australian philanthropist/musician John McMurtrie AM. Together, they have written and collaborated with some of Ukraine's most talented and passionate young musicians to create Blue Skies - a  powerful song to promote peace and show solidarity with the people of Ukraine while raising funds for refugees of the country displaced by the Russian invasion.
In an extraordinary creative process, the Bluesberries collaborated with 70 Australian and Ukrainian musicians to record versions of the song in both English and Ukrainian. The Youth Symphony Orchestra of Ukraine (with young musicians aged from 12-22) and led by emerging star violinist and composer Illya Bondarenko recorded a symphonic arrangement of Blue Skies at a cathedral in Düsseldorf, Germany, while 28 members of the Shchedryk Kyiv Children's Choir recorded choral arrangements for the project in a studio damaged by war in Ukraine. Blue Skies also features outstanding Ukrainian opera singer Maryana Golovko, who contributed Ukrainian lyrics and her beautiful voice to versions of the song.
The full EP releases on all digital platforms today, published by the Wise Music Group.  Music videos of the song have been recorded in Kyiv, Dusseldorf, Sydney and Berlin. All funds raised will go to Australia for UNHCR and Ukrainians.
"Australia for UNHCR is incredibly grateful to the members of the Bluesberries for their generous support of the Ukrainian people.  UNHCR is currently focused on helping Ukrainians who've been displaced by the war to get through the coming winter. The funds raised by the Bluesberries will help the UN Refugee Agency to do this vital work," says CEO of Australia for UNHCR, Trudi Mitchell. 
"There's a line in the song 'All we ever wanted was an ordinary life' and one of the most rewarding moments throughout this process was when Polina said that on the day the children's choir recorded, from the bus driver, to the catering staff, to the studio owners and of course the children themselves, everyone was so happy to be having the first "normal" day since the war had started. That a song composed in Australia has created the opportunity to make kids smile in a war zone is a feeling without equal." – Paul Beard, The Bluesberries
Blue Skies officially launches tonight, Monday 5 December 2022 at an invite-only event at the Australian Chamber Orchestra's headquarters at Walsh Bay, Sydney. Guests will be welcomed by Nine Entertainment Editor Richard Wilkins AM and will hear from key-note speakers, Vasyl Myroshnychenko, the Ambassador of Ukraine to Australia and CEO of Australia for UNHCR, Trudi Mitchell. There will also be a live cross to Europe and Q&A hosted by ABC journalist and presenter Annabel Crabb with Europe project manager Polina Velichko, Maryana Golovko, and Illya Bondarenko.
Over 14 million people have been displaced by Russia's invasion of Ukraine. With Russia's recent aerial attacks targetting electricity and water infrastructure across Ukraine, there has not been a more urgent time to support families who have been impacted by the war as people struggle to stay warm through winter.