Nos compositeurs et nos œuvres à l'honneur
27th février 2019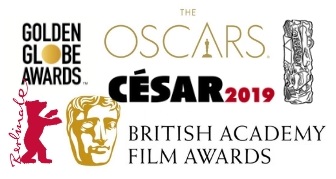 - THE WIFE de Björn Runge/ B.O de Jocelyn POOK (Master & Publishing).
Golden Globes (Glenn Close / Best performance actress drama Awards).

- QUEEN OF HEARTS film danois réalisé par May el-Toukhy / Synchros ( oeuvres de Thomas BLACHMAN, Carsten DAHL, Bent SøRENSEN et William FITZSIMMONS).
Sundance Film Festival (Audience Award).

- LA FAVORITE de Yorgos Lanthimos / synchro "LA NATIVITE DU SEIGNEUR" de Olivier MESSIAEN ).
Baftas (7 récomp.) / Golden Globes & Oscars (Olivia Coleman Best Actress).

- SYNONYMES de Nadav Lapid / synchro "CONCERTO POUR VIOLONCELLE" (Sir Edw. ELGAR).
Ours d'Or à Berlin.

- FREE SOLO doc. de Jimmy Chin et Elizabeth Chai Vasarhelyi / B.O de Marco BELTRAMI (Master only).
Baftas & Oscars (Best Documentary film).

- BLACKKKLANSMAN de Spike Lee / synchro "LUCKY MAN" (Gregory LAKE) par Emerson Lake & Palmer.
Oscars (Prix du Meilleur scénario adapté).

- DILLI A PARIS de Michel Ocelot / B.O de Gabriel YARED (Publishing only) / synch. "Valse n°5 extr. des 1ères valses" de Reynaldo HAHN.
César du meilleur film d'animation.