Ludovico Einaudi et Greenpeace en campagne pour sauver l'Artique
19th juillet 2016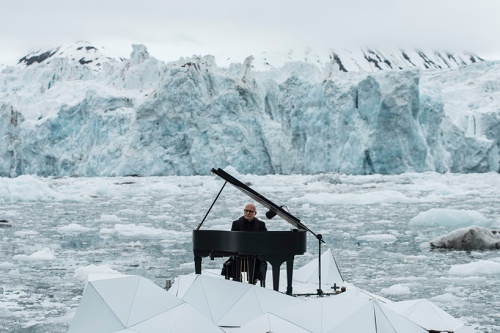 Un an aprés la sortie de "Elegy For The Artic" , Ludovico Einaudi et Greenpeace se remobilisent pour sauver l'Artique ,en sortant le passionnant making of de la campagne de sensibilisation .
A ce propos Ludovico Einaudi s'exprime :"Il y a un an, j'ai joué «Elegy for the Arctic» pour soutenir la campagne pour un sanctuaire marin dans les eaux internationales du Pôle Nord; Un an s'est écoulé, "Save the Arctic" est toujours une priorité mondiale. Nous avons encore besoin de votre soutien. "
A travers sa musique, le compositeur italien a ajouté sa voix aux huits millions de voix à travers le monde qui se sont déjà mobilisées pour cette cause .
Einaudi a joué une oeuvre écrite pour l'occasion , Elégie pour l'Artique , son piano posé sur une plateforme flottante , au milieu de l'Ocean Artique , avec en toile de fond le glacier Wahlenbergbreen ( Svalbard, Norvège ).
Plus d'info sur la campagne ici
Presse :
Liberation du 7 janvier 2017
Par Katia Kulawick-Assante —
De source d'inspiration pour les artistes, la nature est devenue la matière sonore d'œuvres aux visées écologistes.
Related News