Nico Muhly signe la musique d'une série web pour Nike
8th février 2016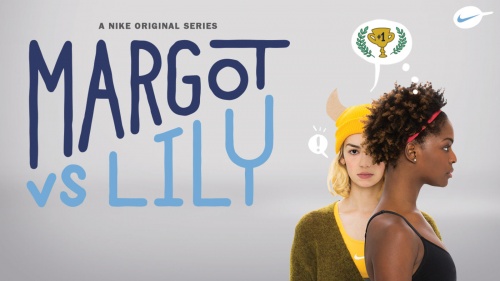 Nico Muhly (The Reader, Kill Your Darlings, Me Earl & The Dying Girl) a composé une musique originale pour la web série inédite de 8 épisodes réalisée par la maison Nike à l'occasion de sa nouvelle campagne, Better For It, en collaboration avec Alfonso Gomez-Rejon (Glee, American Horror Story), la réalisatrice de film Tricia Brock (Orange is the New Black, Mr Robot, Mozart in the Jungle) et l'auteur de best seller, Jesse Andrews.
De Glee à Star du Fitness, il n'y a qu'un pas. La comédienne Samantha Marie Ware est la nouvelle héroïne de cette web série. Margo Vs Lily, c'est l'histoire de deux sœurs adoptées que tout oppose : l'une est une star des réseaux sociaux et une fitness gourou (Lily), l'autre est une 'sœur' cachée de Cara Delevingne, blonde un peu espiègle, assez rebelle, hipster et incisive (Margot). Sans cesse à s'envoyer quelques pics, les deux sœurs vont tester leurs liens familiaux dans un défi original : Margot déteste le sport, va devoir créer sa chaine Youtube de fitness, quand Lily, solitaire, aura pour mission de se faire de vrais amis dans la vie.
Vous pouvez visionner les deux premiers épisodes sur le site Internet de Nike, et les suivants tous les lundis ces 6 prochaines semaines.
Nico est disponible pour toute commande de musique originale pour la publicité, le cinéma, la télévision. N'hésitez pas à nous contacter pour plus d'information.
Nico Muhly (The Reader, Kill Your Darlings, Me Earl & The Dying Girl) has created a bespoke score for the Nike mini-series Margot Vs Lily, an original Better For It Nike Production, directed by Tricia Brock (Orange Is The New Black, Mozart In The Jungle, Mr. Robot).

The series centres around a pair of adopted sisters who live completely different lives. Lily prioritises fitness over friends, while Margot has a robust social circle and little interest in sport.
On New Year's Eve, tensions boil over and the sisters make a bet.

Check out the first episode on the Nike website and catch each new episode as it launches, every Monday for the next seven weeks.

Nico is available for bespoke composition for Adverts, Film and TV. Please contact us for more information.


Margot vs Lily
Composer: Nico Muhly (The Reader, Kill Your Darlings, Me Earl & The Dying Girl) Director: Tricia Brock (Orange is the New Black, Mozart in the Jungle) Executive Producer: Alfonso Gomez-Rejon (Me and Earl and the Dying Girl) Advertising Agency: Wieden+Kennedy (Portland) Starring: Brigette Lundy-Paine (Irrational Man) , Samantha Marie Ware (Glee)
It'll all workout in the end...
Related News